Im writing this for not only my memories. But to all my new friends out there who think I have lost my mind. So now they can read about my 19 month adventure. So here we go.....
Its hard to believe that its been just over 3 years since I first saw him in concert. For those of you who don't know my history. I love telling this story.
Late 2005 or Early 2006, my sister, Paula, found out Michael Buble was coming to Minneapolis in March 2006. At this time I had no idea who this man was or his music. Anyways Paula convince my mom to get tickets to the show. The day of the concert, I clearly remember my mom and I talking about how much she didn't want to go to this show, she too had no idea who the man was and if you know my mom, staying home is her comfort zone. Well I convinced her to go and to try and have a good time.
The next morning, I get a call from my mom and all she could do was rant and rave about this man and his music. Even with that, I wasn't a fan yet and was just glad my mom had a good time.
Well you know that comfort zone I mentioned earlier? Well about a month later, my mom called me up and tells me she just spent near $300 for a single concert ticket to see Michael in Honolulu on July 28th 2006 and she needed my help to plan the trip. So for May and June, I helped book her flight, plan a couple tours, luaus..etc etc. Her trip was just a 4 day weekend, Thursday July 27th - 30th, so there wasn't a lot of time for fun in the sun (mom don't do sun anyways.)
Well, the Tuesday prior to my moms departure, my husband came home from work around 11:30pm. Out of sheer jealousy and planning this trip for her, I asked my husband if I could go to Honolulu for the weekend with my mom. He looked at me like I was crazy! But he said he was too tired to think about it and he would let me know when he got up.
Now, truth be told, in all reality, I expected him to say No..which would not of suprised me or hurt my feelings. Well he got up, and asked me if I still wanted to go and I jokingly said yes (I mean really, who wouldn't want to spend a weekend in Hawaii) And he said "Go and have a good time!"
OMG, is he serious, well I wasnt looking a gift horse in the mouth, so with less then 24 hours to go, I found a flight for $800 and concert ticket in the nose bleed section. I called my mom up Wednesday afternoon and casually asked her if she would mine sharing her room with me. Took her ab few minutes and when she finally got what I was asking we both couldnt believe it. I had scheduled my flight to coincide with hers so we could meet up at the airport (about 4pm Hawaii time) and we planned to have dinner at the hotel.
Well thanks to Delta Airlines, my 45 minute layover in Atlanta, turned into a 9 HOUR LAYOVER (oh and I hate the Atlanta airport now!) But I finally arrived in Hawaii about 3AM.
Friday we spent the day sight seeing and having a good time. That Evening was the concert, and even at this time, I was more excited about being in Hawaii then seeing Michael. A little side note, Mom, after the her first show in Minneapolis, joined Michael's fan club. There we met a lot of wonder women and men, who have become life long friends to myself. I told these women about my mom, where she was sitting at the show, so they should stop by and say hello to her. I didn't have time to tell them I was coming..
Well at the arena, security was virtually non existant. And I walked my mom to her seat(4th row center), after we agreed on a meeting spot for after the show. I went up to find my seat. By the time I got to my seat and sat down, I noticed about 4-5 women talking with my mom, so I decided to go say HI and made my way down to them. I hate to say, the only names I remember meeting is Dale (Sandyeggo) and Elizabeth (ElizabethTaylor). Well Elizabeth asked me where my seat was and when I told her, she said that the ticket office as of that afternoon, showed the seat next to her has not been sold and I should sit with her and if someone comes, Id just go to me original seat, but if not, Id have a better seat. So I asked her where she was sitting and she headed to the front row!!! (ARE YOU FREAKING SERIOUS) So I sat, knowing I would soon be kicked out of that seat. But no one ever came. So there I was my first Michael Buble concert sitting Front row! (ARE YOU FREAKING SERIOUS)
That night, I knew I had Buble fever. He is so handsome, so funny, so EVERYTHING! The boys in the band are too cute and talented for their own good! It is just a overall wonderful classic show. Pure Entertaiment with out all the bright lights and lasers and smoke most groups use today. He makes you feel like you are his friend, and that you are just sitting in his livingroom and hes just singing for you alone, Seriously folks, 10,000 people disappeared that night, it was just me and my Michael.
The trip to Hawaii was over too fast too soon. And before I could say Mahalo, I was flying back home to Florida.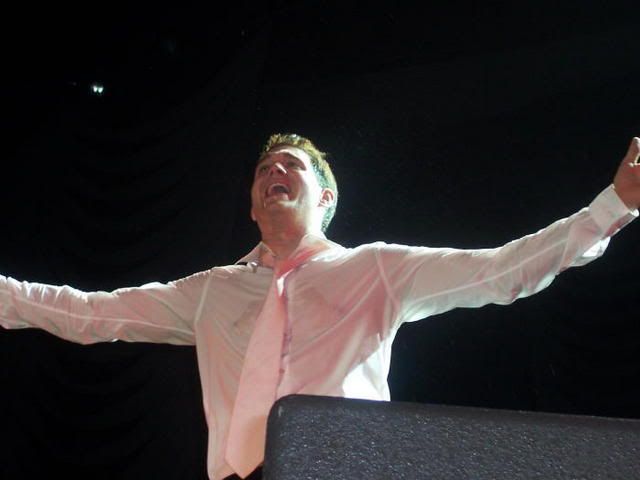 So of course my mom and I talked on the
phone forever about the trip and about Michael of course. It had to be late August or early September that one of us, and Im not sure quite who, mentioned we should go to Albuquerque on October 5th, 2006 to see Michaels last show of the "It's Time" tour. Now my first thought is how to ask my husband. Something along the lines of, "Hun I know I just went to Hawaii like 6 weeks ago, but now I wanna go to New Mexico in 6 weeks to see Michael again"..(can you tell me the number for the local psyche ward!)
.. But to my amazment, my husband said Yes once again (Im such a lucky lady!). So back online Im going, booking moms flight, booking my flight.. hotel and researching local attractions, We decided to stay a entire week. We drove up to Santa Fe and looked at some beautiful OLD churches. We also got to see the famous Balloon Festival. We went shopping in Old Town and drove the historic route 66. Ok so enough of the tourist thing, back to Michael.
Michael was playing at the Sandia Casino in a outdoor amphitheater. The day of the show, mom and I are discussing, to no avail, where to have dinner. So finally I suggested, since Michael is playing at a casino, we should go there and eat, maybe spend a few dollars on the slots and see the show. She agreed, so we got dressed and headed to the casino.
Once we parked and started towards the casino, it was as if the Buble Gods smiled upon us, music to our ears, literally. MICHAEL WAS DOING HIS SOUNDCHECK!!!! AHHHHHHHHHHHHH
So we follwed the music and ended up outside the amphitheater. we peeked inside the gates and sure enoough theres my Michael doing his stuff. I was so memorized by him, that is until a security guard said we would have to move away. So we found ourselves a bench outside and just listen from a far, the man singing. It was so amazing!
After the soundcheck was over, mom and I decide to go get that bite to eat inside. We stand up and start walkiing (If you dont believe in the Buble Gods, you will now) OMG there was Michael walking towards the casino too! (ARE YOU FREAKING SERIOUS) I lost all control over my thoughts and my body and started walking very fast towards him (he was a good 30 yards from me) He got into the casino before I could reach him and once inside I lost him in the crowd. My mom caught up with me and scolded me for chasing the man. I felt a little ashamed but still, its Michael! We were standing there talking for oh 15 minutes or so, and the doors to the casino open, and Michaels walking right towards us, closer and closer! Im not sure how I mangaged to blurt out, Michael can I have autograph, but I did and he stopped to say HI. He signed both my Moms shirt and my shirt (I made our t-shirts, my moms said " I suffer from A2BC syndrome - Addicted 2 Buble concerts... and mine said, Michael will you marry me? No? How about a picture instead?) PICTURE, so here it is Michael is signing the back of my shirt, my camera is in my hands and Im so delirious that I dont ask for picture! (the Buble Gods are good and kind, but have a sick sense of humor!)
My mom, broke down and cried hysterically for a good 20 minutes, she was shaking so bad and breathig heavy, I thought for sure I would have to call 911! But I got her calmed down and by this time they are starting to let people into the arena. So we go get in line and find our seats (1st row, above the pit, off to the side of the stage - perfect view, no heads in the way!)
The show as usual (ok it is only my second ) was amazing again. I ended up sitting by Kat (Katamil from the fanclub). She is a super lady. I was taping Michael singing Moondance, when a security guard started yelling at me about my camera! She wanted to know if I was taking video, I of coursed lied and said no, but she took my camera from me, she returned it and told me no more pictures - F YOU BIOTCH! Check out youtube, everyone takes pictures and video. Now I didnt say that out loud by any means, and I did manage to snap a few more shots. When Michael gave us the cue to get up off our asses and dance, Kat and I tried to get down to the stage, but Security wouldnt let us!, Kat turned into Linebacker mode and made a run for it, I some how managed to fight my way down too, and got right up to the stage. I didnt even feel the pain on my ankle from a cut I recieved during my pursuit to the stage. It was here that I got to hold Michaels hand while he sang, and if I remember right I rubbed the mans calf too (through his slacks people, perverts!)
After the show we were suppose to meet some friends (from the club) inside for a drink, But we realize we hadnt eaten yet and now my ankle started hurting, so we decided to go grab some McDonalds and go back to the hotel. I dropped my mom off at the hotel so she could go relax and I went for the burgers. When I got back to the hotel, its only been about 10 minutes, My mom is sitting in the hotel lobby. I ask her why she is sitting there and she says when she came intot he hotel, she noticed the bartender bring a tray of Heinekins(sp...sorry Im not a beer drinker) upstairs and maybe they were for Michael and the boys. I chuckled a little and said to her the Buble Gods are that nice and with that being said the door opend and it walked...... you aint going to believe this one folks... You sitting down... hold on tight... in walks.. A roadie! (HA Gotcha) just some guy, Yes he did have a Michael staff pass on ,but it was just a roadie or something. I tell mom Im hungry, its late, my ankle is bleeding and lets go upstairs (Oh Im sorry for doubting the Buble Gods and their gifts they give to us!) The doors open again and in walks, Michaels BAND! First was Randy Napolean, guitar player. Alan Chang, piano. Rob Perkins, Drums. Nick Vayenas, Justin Ray, Rob Wilkerson,Bryan Lipps and Jumaane Smith - all from the horn section! I about fainted, As they walked by, heading for the elevator, I told them how much we enjoyed the show. They thanked me, and went upstairs.
I told my mom that I bet they are goign to be going out to celebrate, being its the last show and all. I went to the front desk clerk, and asked him if had a sharpie marker I could borrow. They guy looks around and tried to hand me a yellow Highlighter! DUDE SERIOUSLY, I need a sharpie marker. The clerk proceeds to tell me there is one on the managers desk, but he is not allowed to give it out. I told, him I wouldnt keep it, and I would stay in his sight at all times! HE still wouldnt give it to me, Im dying. I tell him, that my favorite band is here and I was hoping to get their autographs if they came back down. I turned to show him Michaels signature and he finally said OK and let me borrow the sharpie (its a freaking sharpie!)
Well, you got to respect the Buble gods, because sure enough the band came back down, minus Randy. They asked the clerk to order two cabs for them, and I dont recall who I asked, but I told one of them I would be more the happy to drive them around town! ( I would of too) Well I did get them all to sign my shirt and my mom took a few pictures. Over all the shows I will see (only 8 more to go folks) Albuquerque was by far the best!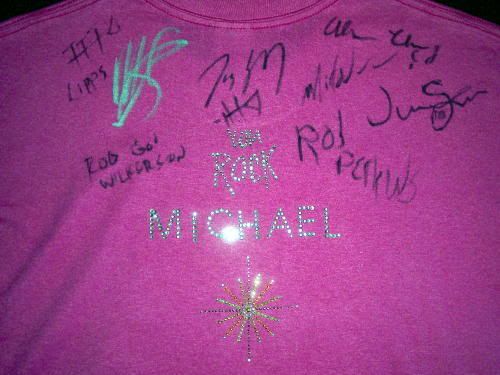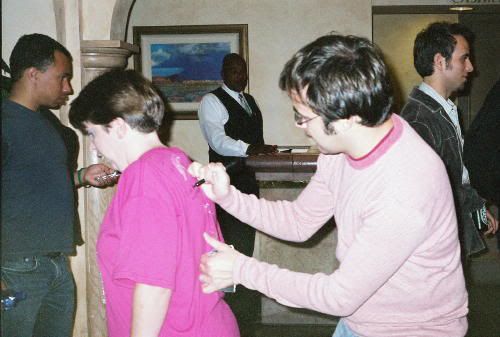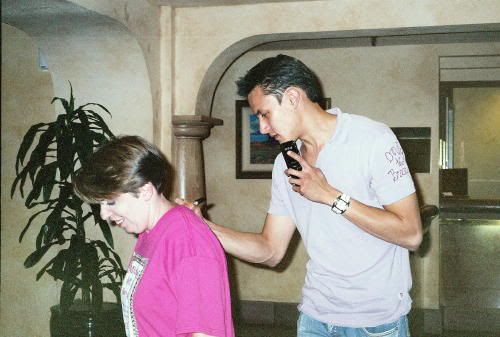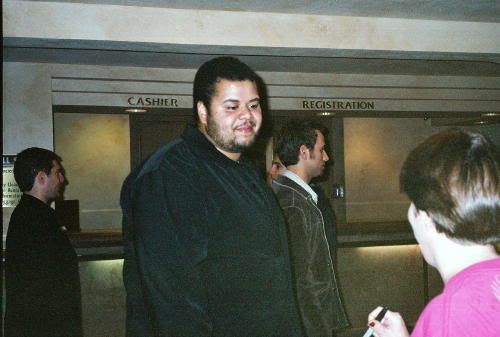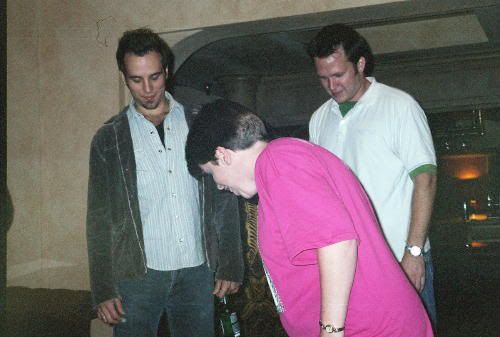 Oh yeah, remember how I told you that the Buble Gods have a sick sense of humor, well get this, there we all are in the hotel lobby, Im talking with the guys and Alan sees a piano in the lobby, and he goes over to it. Now I am having a heart attack thinking we were gonna get to see him play, right here, right now! But the Buble Gods laugh as Alan discovered the Piano was locked! Now would I have to KILL the clerk for the key???
With Albuqurque now under our belts, and once again I am home from a fabulous trip. As usual My mom and I are talking up a storm, OMG WE MET MICHAEL AND THE BAND!!! Of course we are in Michaels fan club, raving about our adventure. When the club makes a announcement for tickets to Michaels albumn release party in NEW YORK CITY on Apirl 30th,2007!!! We didnt win the primary contest but shortly after like with in 2 weeks form the show. They announced extra tickets were available and to email them if interested. Both my mom and I won a pair (4 tickets together) so I started posting on the fan club for anyone who doesnt have a ticket to let me know and we would share. Well I ended up sharing my ticket with Amy (Diamondgirl). So for a third time in 9 months, Im booking flights and hotels and tours! I flew Delta again (remember they left me stranded for 9 hours in Atlanta). Luckily this time I arrived to JFK on time - the downside...My luggage DID NOT! I went to the baggage claim office where I was told there wasnt enough cargo room for my bag, so they would put it on the next flight and have it delivered to my hotel. Well the next day came and went, and the next and the next and the next and on the mornign of our departure, I get a email from delta stating that my luggage has arrived and they would ship it to my hotel that day. I called them up and said leave it at the airport! Im going home!
All in all, luggage or no luggage, I loved NYC! My mom and I booked a bus tour of the city. We got into Mahatten via a 60.00 cab fare. And had some breakfast before the bus started loading. I told my mom I wanted to go get some pictures outside and left the deli. She stayed there. As I am crossing a intersection in Times square. The strap on my sandal broke and I went falling face first in the middle of the road! I get up and Im a little bruised, but nothing major, except for the fact I now have no shoes (mind you lost luggage with my sneakers and socks in it). So I was in desperate need of flip flops or a payless, but couldnt find one anywhere. So I ended up buying me some cheesy NYC touristy socks. And I proceeded to do a eight hour tour in my socks. Yes folks, me and my socks were on Ellis Island, We were at Ground zero in socks, central park, in socks!..it was a hoot! I got a lot of questions about my socks, funny thing is on the bus, on the way to another stop..we passed a payless, I yelled STOP THE BUS ITS A PAYLESS!!! Everyoone laughed at me including the guide. Hey you have to have a sense of humor when you have been wearing the same clothes for 3 days and now you have no shoes either!
But on to Michaels show, it was amazing, general admission, standing room only! We were all packed in there like cattle! My mom wasnt thrilled with us being so crowded, so she worked her way out to the sides and found a empty table, I stayed by the stage to see the show!. Well ended up moms table was in a VIP section she didnt know it and she got served drinks and food! She lucked out!
On May 1st, the day after the show, Amy and I decided to take the subway from Queens to Manhatten to attend the Today Show, where Michael would be performing. We were told in advanced he would be outside, but for some reason he performed inside, so we had to watch via tv monitors. He did however come out onto the plaza to say high, sign autographs and take pictures. This is where my one and only photo with him is taken.. its a bad picture, we both look tire and I have no make up on (again we go back to the lost luggage!) But despite it all, its my favorite and I will cherish it always!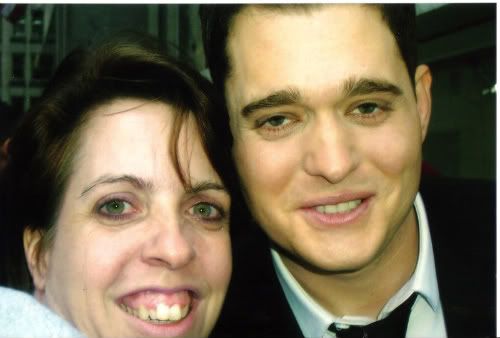 Well with our addiction to Michael growing everyday! Mom and I decided that we just have to see the new show. So we looked at the tour schedule and decided that we should do Atlanta on August 13th and 14th (YES Michael was doing two shows there and well you know if you do one show you must do the other too..hehehe)So as always, im booking flights and hotels and tours..lol
We went and viited the High Museum while in Atlanta, and its a beautiful Museum. At the time they had a exhibit from the Louvre. Amzing collection! I saw my first Rembrandt and was moved to tears. It was a beautiful painting called St. Matthew and the Angel, painted in 1661. Heres a picture
The picture doesnt do it justice, to see it close and the brush strokes and the lighting... it was truly moment I wont forget.
We met up with some fellow fan club mmebers for dinner before the show. Again Im bad with who all was there, But I do know it was Karin (Kpbell) and Catherine (Mommatan) and a whole bunch others..sorrryyy!
The new show was outstanding, new set, new songs, old favorites. The night of the second show, I left before Michael performed his encore so I could be first in line by the busses. And I was, in about 15 minutes the line started growing fast. The band members started coming out and I got their autographs on a poster for my mom. Steve, Michaels Bodyguard came out and explained the rules, no flash photography, and once your done, move along... Well then Michael came out. He came over to me and all I could do was say I LOVE YOU, he thanked me, and I asked him to sign the poster he did. I had him make it out to Mom, since it was her poster.
Hmmm where are we at now, I forget.. oh yeah 5 shows in 11 months, now here comes the rush try and keep track would ya?
After Atlanta it would be a long 6 months before we see Michael again (do the math, Im on a total of a 19 month tour and I just went from 1 year to 17 months - so I got to see 5 shows in 2 months to do this)
WELCOME TO THE NEW YEAR OF 2008!
In December or January, Michaels Myspace ran a contest for the most fan dedicated page. I submitted my page and I actually WON. For a good 6 weeks I was MICHAELS 1 FRIEND! So I had to make a tshirt!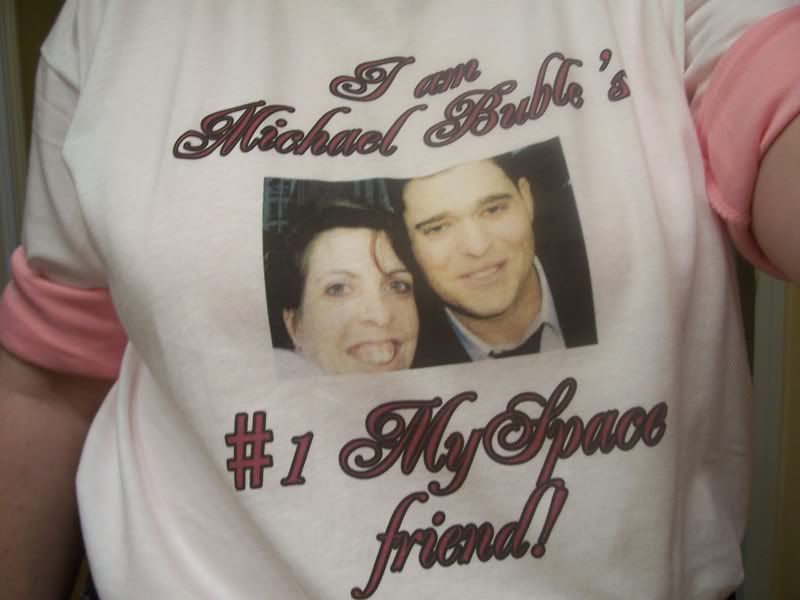 On February 22nd, Michael was right here in Tampa at my old stomping ground the St. Pete Times Forum. I was in heaven!, No hotels, no flights! My mom however did have to fly down. Becuase the show was local, we decided to get tickets for my Moms sister and my Husband so that maybe they can understand a little better our obsession!
So lets see, Yes, Michael and the boys are right here in Tampa! The show was so amazing, even though we were up in the nose bleed seats because we brought my Aunt and Husband. Although I will have to say that this show in Tampa changed my life. Between the show in Atlanta and this one, Michael found a brand new opening act called Naturally7. Its hard to describe them right now, but they have become my 2nd
music obsession!
The very night after the Tampa show, Micheal was playing in Orlando. Hey whats a hour and half drive to see my Michael. Mom and I were back into our normal seats 3 rows from stage. And this was also my fist time to see Naturally7 up close..OMG WHAT GORGEOUS MEN! But more on that later.
Two weeks later on March 9th,2008. My mom and I were off to Memphis Tenn. We stayed right across the arena. Just a block or two from famous Beale street. We ate lunch in BB Kings restaurant. Fried Pickles are the best!
The night of the show, my mom and I entered the arena, and as we are trying to figure out where we are sitting (4th row). I see a man standing by the consession stand. He looked oh so familiar, but it took me while to place the face. As I passed him, it hit me. It was Hops from the group Naturally7. I nudged my mom and said it was Hops, she told me I should go say HI.
(((thought))) Just how strange one moment in time can change your life (((end thought)))
I did end up saying Hi to him and he was nice enough to take a picture with me.
this is another one of those Love Hate pictures... Ive never been photogenic, but OMG I could be down right scary in this picture!
The show from Memphis as always is amazing, Naturally 7 hit it out of the park, Michael was outstanding!
As you can see, Im slightly obesessed and borderline stalker..lol. When I got home from Memphis, I was already in need of a Michael Fix. I was a desperate woman in a desperate need!.. So, without my mom at my side, I headed for Cleveland Ohio, 5 weeks later on April 19th. Michael had a cold that performance, and Im now to the point when i can tell the man was a little off. But even with the sore throat, he pulled off a spectacular show. Since this was a short trip, less then 24 hours, I didnt bring my camera. I do however have one picture taken by a fellow Bungalow girl, with her daughter Olivia, who was spotted by Michael and got the famous "Mom, you have a camera?" and he jumps off the stage to take a picture...I love that about the man. After the show, I waited by the busses as usual, I had the honor of talking to Garfield and Rod from Naturally7. Michael finally came out and signed our autographs. He was so sweet, no matter what he will always be my 1.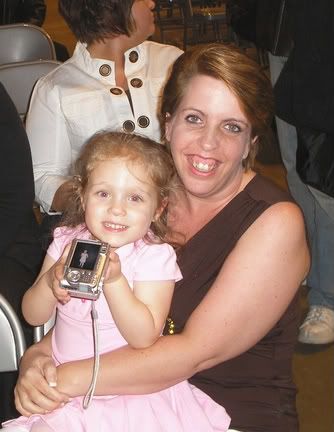 The very next weekend, I was headed off again to see Michael in Minneapolis. Naturally 7 wasnt going to be there because this was no a normal concert. This was for a charity event for RAINN (Rape Abuse Incest National Network), It was a spectacular evening, not only full of information, but there was maybe only 500 people attending, and when Michael took the stage, only 50 of us were up there. To see him in that intimate enviorment, he was in his element and the performance was 100% better then any previous show! Martina McBride also performed and did I mention I ran into a few of the boys of the band before the show! Love the Buble Gods!
So that was the last time Ive seen Michael on April 26th, 2008. I so wish I could manage another trip to see him. But for now I will wait till his next tour!
Now can we talk Naturally7? You know I mentioned them once or twice while talking about my trips to see Michael. The first time I saw them was here in Tampa back in February. Then in Orlando, Memphis and Cleveland. Some time this summer, I found out Naturally7 would be here in Tampa performing a corporate event for Jaguar on October 17th, Sadly the event was listed as Private on the groups calendar. As the weeks past I was more and more determined to figure out where the event was being held, I mean at the very least I could say HI to them, even if I couldnt see the show. So I called up Jaquar directly and "inquired" about the event and if they had any information on it. To my utter suprise the gentleman starts talking about TICKETS being $100.00 it included drinks and food and the entertainment, Naturally7. All proceeds went to a local charity, The Shelton Quarles Foundation.
You got to know that I purchased my ticket for that show. Now my dilema became this, It was a charity event, standing around and talking to people. Im not one that walks up to strange people and talk to them, so I started askingmy friends if anyone could go too. Sadly noone wanted to go for various reasons from Naturally Who and $100 bucks are you kidding?
So I finally came to the realiazation I would be going alone. Then one day while here on Myspace, I noticed on the App of "own your friends" that some lady kept buying Gbuck from me, I would buy him back and she buy him again. This went on for a while. One day I decided to check out the ladies profile and discovered she lived here in Florida, not only in Florida but in Brandon Florida, where I live. Now c'mon people, in this world of internet, and the millions of people on myspace from around the globe. What are the chance that I stumble on a lady, my age, lives in my town and knows who Naturally7 is??? It is a small world afterall (a little Florida humor..hehehe)
Well I decided to write her and introduced myself, I told her about the benefit and asked her if she would not mind going with me or meeting me there. So we met a few weeks later for dinner, We hit it off pretty well. And the following week it was time to go see our Boys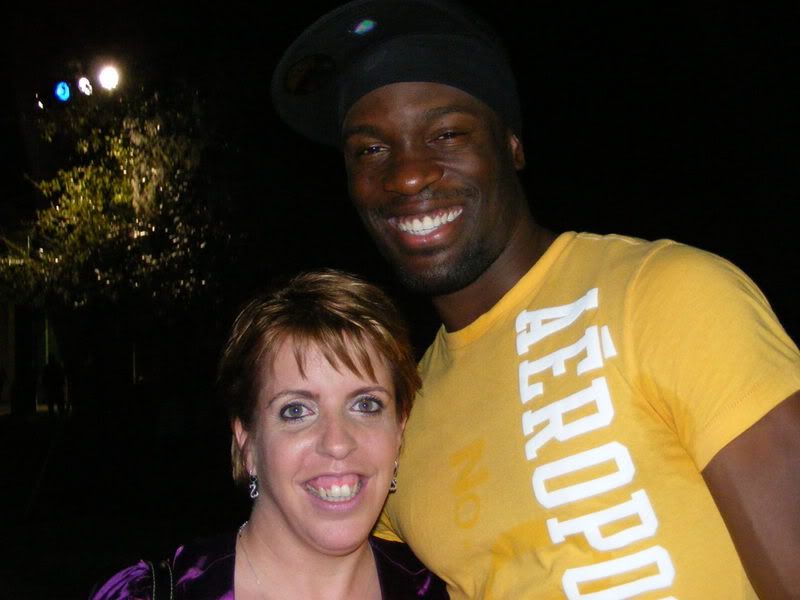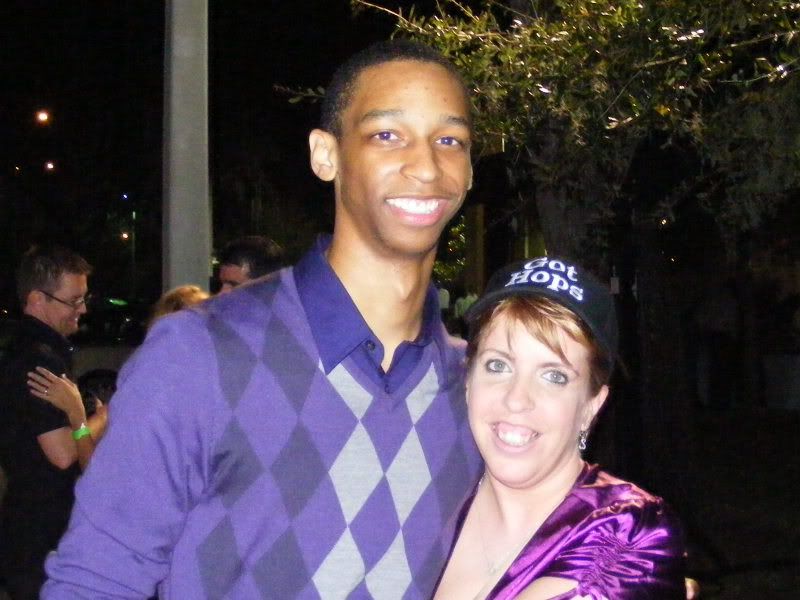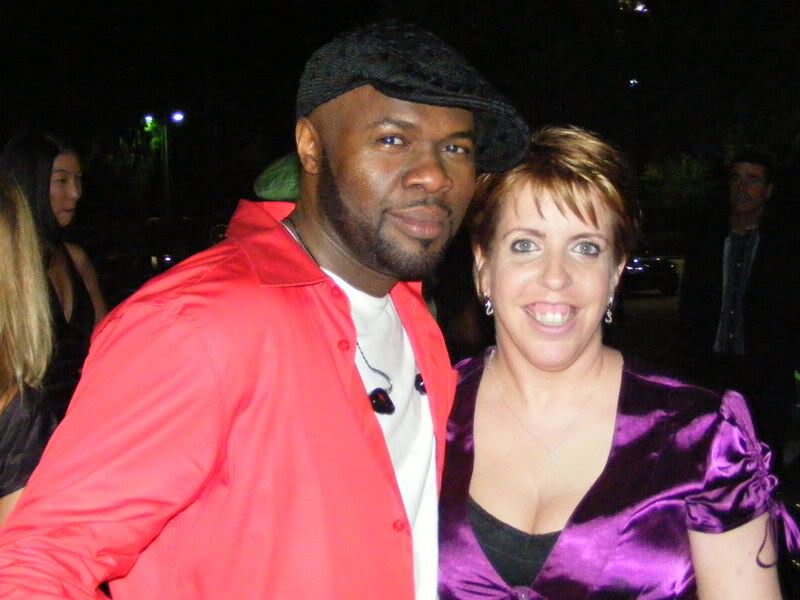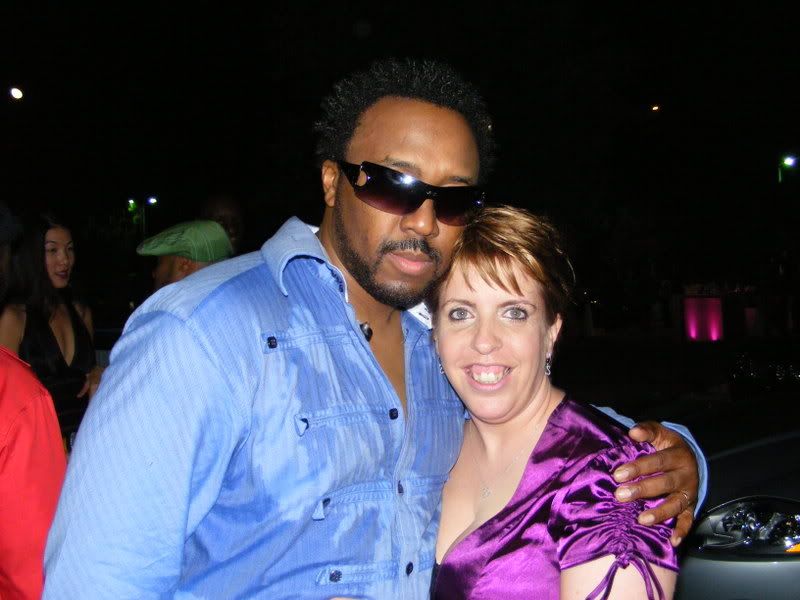 I just love these guys! So when I got home I booked another trip to see them. This time I was headed to Mansfield Ohio on November 15th.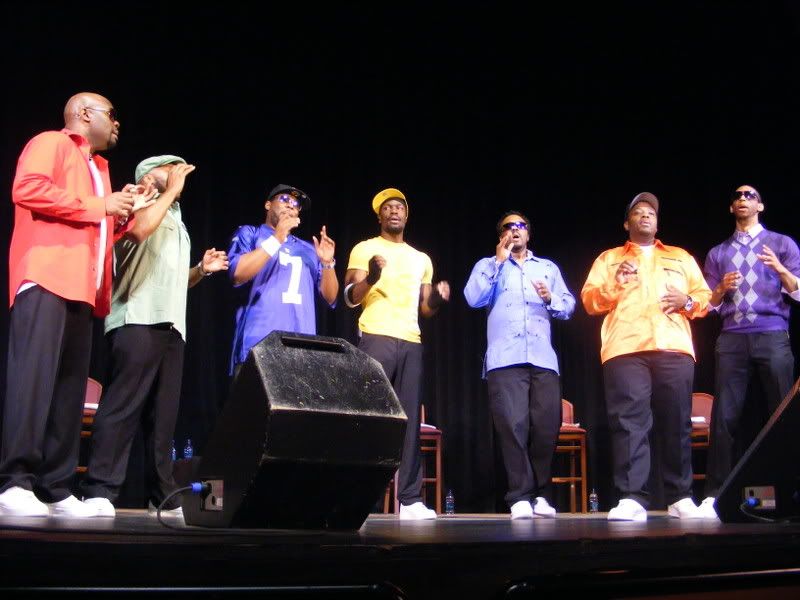 This show in Ohio was very special to me, and no matter how many times I see the group in the future, this one will always be my favorite!
Then on February 28th, I went to New Olreans (Metairie exactly) to see my boys. They didnt allow cameras to be used at this show but I got some great shots afterwards..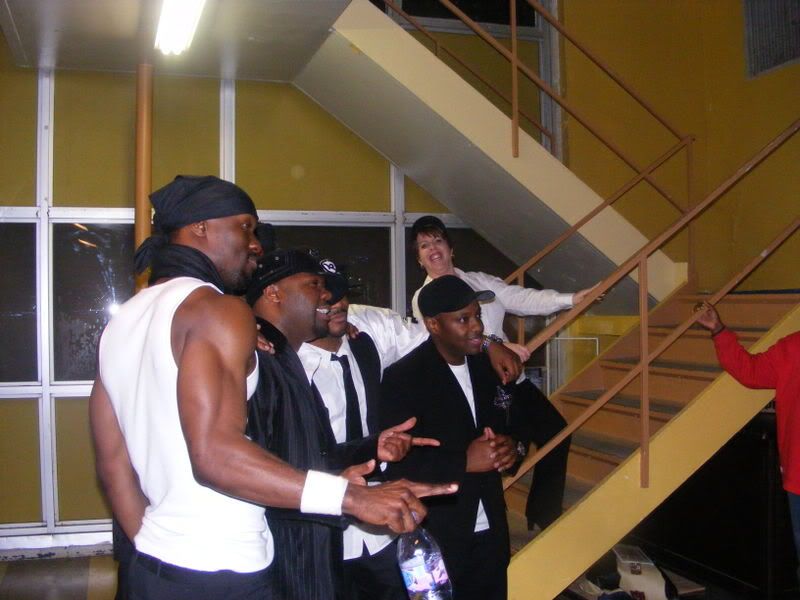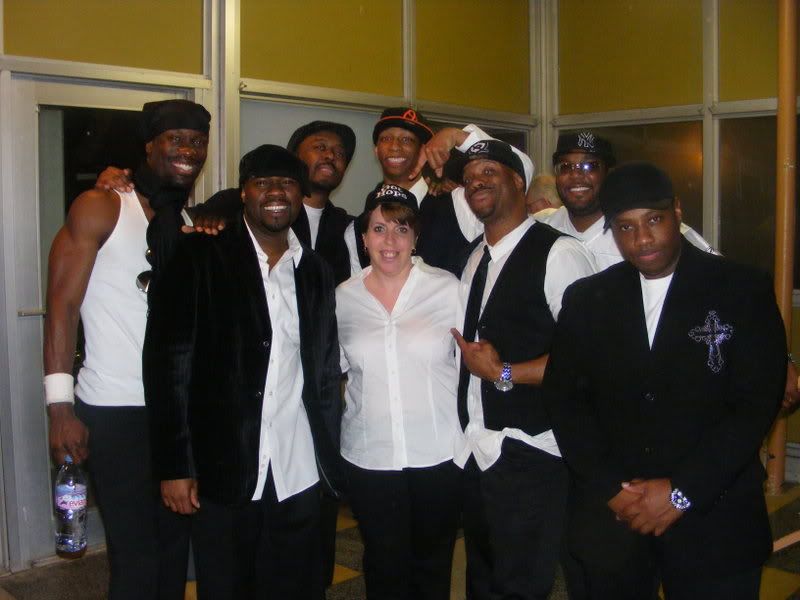 VIDEO COMING SOON